by Alison Bruener, Museum Assistant
Today with fewer and fewer newspapers circulating, I'm amazed how many local people over the years owned and published the numerous iterations of our local newspapers. In the days of the Wood County Reporter, the Centralia Enterprise & Tribune and the Grand Rapids Tribune, there were names like Jack Brundage, H.B Philleo, and Drumb and Sutor. But one family stands out for their years spent running the Daily Tribune:  the Huffmans.
Having moved to Grand Rapids in 1919, William F. Huffman purchased the Grand Rapids Daily Leader and the Weekly Leader in October of the same year. By spring 1920, the Tribune had absorbed both Leaders. For almost a year, both the daily and weekly Tribune continued to be published and eventually the weekly was discontinued in favor of the Wisconsin Rapids Daily Tribune.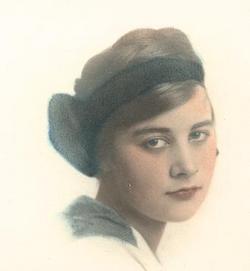 A couple years after moving to Grand Rapids, in 1921, William Huffman married Alcinda Louise Fey, or as she was more commonly known, Louise. The two met in college and were engaged, though the wedding was postponed due to his participation in the French Ambulance Service during WWI. Once married, the couple had two children, William Jr., born in 1924, and Mary, born in 1926.
With his family settling into the growing city, and still at the helm of the Tribune, Huffman in 1940 introduced a new media outlet to the area, radio station WFHR (William Ferdinand Huffman Radio).
After Huffman's death in 1949, the widowed Louise Huffman served as the president of both the Wisconsin Rapids Daily Tribune and the radio station WFHR until 1950. Then, William Jr. ("Bill") took the helm, after returning home from receiving a degree in agricultural journalism from UW-Madison. He had also served in WWII. As for Louise, she would spend the next two decades traveling the world. She passed away in 1976.
By 1955, Bill Huffman had co-founded the Forward Communications Corporation with other Central Wisconsin newspaper publishers. The company would later expand to other regional television and radio stations.
In his editorials in the Tribune, Huffman criticized the war in Vietnam and expressed concern for environmental protection.
In 1983, Huffman sold the Tribune to Thomson Newspapers out of Toronto, Canada.
Gannett Co. purchased the Daily Tribune in the year 2000. Gannett also owns Appleton's Post Crescent, Wausau's Daily Herald, Green Bay's Press Gazette,  the Milwaukee Journal Sentinel, the Sheboygan Press, Fond Du Lac's The Reporter, Manitowoc's Herald Times Reporter and the Stevens Point Journal. Gannett's headquarters are located in McLean, Virginia.
I have enjoyed learning the history of our local newspapers and look forward to continued work on our forthcoming exhibit on the papers here at the Museum. We will be open to the public again after Memorial Day, which, as things go, is right around the corner, and we will post our summer hours soon. Hope to see you then!