written by Kathy Engel, SWCHC Librarian
Recent donations by South Wood County Historical Corp. board member Nicholas J. Brazeau, Sr. contained the following photographs of Brazeau ancestors who made their home in Grand Rapids, Wis., now Wisconsin Rapids.
The first photograph shows Stephen (Etienne) D. Brazeau (back row, middle) with his seven sons: Frank S. and George B. in the back row on either side of their father; front row, left to right, William A., Irving N., James E., Stephen D., Jr., and Theodore W.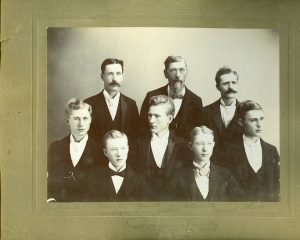 Theodore W., known later as T.W., became a prominent attorney in Wisconsin Rapids and is the grandfather of current residents, Nicholas J. Brazeau, Sr., and Mary Brazeau Brown. He is the great-grandfather of circuit court judge Nicholas J. Brazeau., Jr.
The second photograph shows the seven Brazeau brothers at a later date. Back row: Theodore W., Irving, Stephen D., Jr. and James E. (known as Ed). Front row Frank, William and George.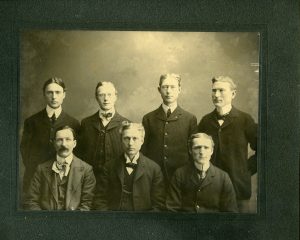 The Stephen Brazeau, Sr., family included daughters Helen, Margaret and Adelaide. Stephen's wife, the former Margaret Brady, died in 1882.
Five of Stephen and Margaret's children remained in central Wisconsin; four lived in Washington State and one in Utah. Frank was postmaster and a merchant in Port Edwards. Helen (Nellie) Quinn supported her two daughters by keeping boarders, cooking and dressmaking. J. Edward was postmaster and a merchant in Nekoosa. Adelaide (Addie) married John Canning and lived all her life in Wisconsin Rapids. Theodore W. Brazeau lived until 1965, his career including District Attorney of Wood County and a term in the Wisconsin State Senate.
Save