The first name the city of Wisconsin Rapids held was the Native American name of "Ahdawagam" or "Two-sided Rapids."
The eastern side of the bank was named "Grand Rapids," acclaimed for the rapid growth of the industry of its wing dams along the river and its rising population.
The western bank of "Centralia" was noted for its lawless ways with events of shootings, brawls, and other crimes until 1856, when Grand Rapids threatened to seize the land.
By 1900, the two cities consolidated and took on the singular name of "Grand Rapids." Twenty years later, the town was renamed "Wisconsin Rapids" due to valuable mail being sent to the city of Grand Rapids, MI.
The following are from our archives-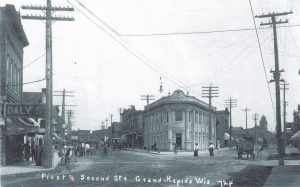 Grand Rapids (1900-1920)
*The following is a collection of excerpts pertaining to the Grand Rapids/Centralia region.
Along the Wisconsin River- 1907