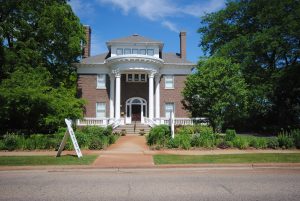 History of the South Wood County Historical Museum Building
On the site of Isaac's boyhood home, Anton Billmeyer built Shadowlawn for Isaac Witter in 1907. The house was built on grounds consisting of 230 feet of frontage on Third Street and 230 feet on the Wisconsin River.
The house was built in the neoclassical style, consisting of 23 rooms, not including the large halls, and had a central vacuum system. An elevator was installed after Isaac became ill.
In 1947, Isaac's brother-in-law, George W. Mead, purchased the Witter home and grounds for $15,000.00 and presented it to the city to house the T.B. Scott Public Library, which opened in 1948.
After the McMillan Memorial Library was built and opened in 1970, the building and land were deeded to the South Wood County Historical Corporation for the museum, which opened in 1972.
Board of Directors
Leon Schmidt, President
Phil Brown, Vice-President
Sarah Sigler, Secretary
Mary Anne Getzin, Treasurer
Page Casey Clark
Lori Brost
Robert Zimmerman
Pete Smart
Richard Bender
Kathy Daly
Jack Wesley
J. Marshall Buehler
Curious about books by Wisconsin Rapids City Historian Dave Engel (LHS '63), other local authors, or the SWCHC publication Artifacts? Visit our "Publications" Tab!
Save
Save
Save